In business since 1995. Call Today
Call For A No-Obligation Consultation.
For Agencies & Professionals
We are the industries only fully comprehensive live training solution for home health care organizations.

One word describes our home health care training and educational programs "Intense". Our training programs will help you master the essential skills required for compliant documentation and sound operating procedures. We are committed to providing the very best home care training that the industry has to offer.



We provide training in the following areas:
Non-Medical Personal Care Training

Private Duty / Medicare Skilled Training

Hospice Training

Advanced Workshops in ICD10 Coding & Oasis Training,
Wound Care Training, Infusion Therapy Training, Advanced Workshop for Medicare-Certified Agencies, Advanced Workshop for Hospice Agencies and Strategic Marketing / Business Development
Many of our courses are recognized by the state nursing boards and qualify for mandatory continuing education (CE) requirements.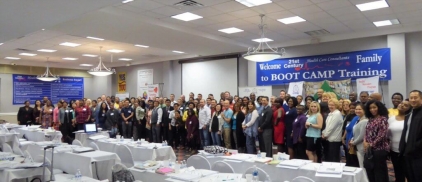 Home Care Startup Programs

Personal/Companion Care

Home Health Care (Medical)

Hospice

Non-Emergency Medical Transportation
21st Century Healthcare Consultants has helped more than 3,000 home care agencies get started. Our team of 40+ consultants will help you with Licensing, Policy and Procedures, Accreditation, and Audits. We offer a complete turn-key home health startup process that will get you started with your own home health agency. Need credentialing for a particular insurance plan or Medicaid waiver? Is your agency looking for a great Quality Assessment Performance Improvement program? Have you received an Additional Development Request (ADR) from Medicare? We can Help.
Plus, your Personal Account Manager and coach will coordinate your training and support with our team of nurses, and certified specialists. There's no need for you to deal with all the state agencies and regulators. We do the work for you! Plus you and your staff get lifetime access to our award-winning training bootcamps and online courses.
No other home care consulting company has as much experience, as many industry connections, or in-house resources as we do. We truly are a one-stop shop for every service your agency needs.
Copyright © 2019 21st Century Health Care Consulting Services